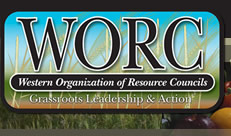 Dear Mike,
One of the laws that WORC members care most about is under attack in Congress.
The House of Representatives will vote soon on a bill to repeal the country-of-origin labeling (COOL) law for beef, pork and chicken.
Will you contact your Representative today and urge him or her to oppose this attack on COOL?
We know that the public strongly supports COOL. Consumers want to know where their food comes from, and producers want the product they so proudly produce to be labeled. A 2014 Consumer Reports survey found 90% of U.S. consumers want COOL.
The big meatpackers do not support the right of consumers to information that enables us to make informed choices, and have attacked this right repeatedly. At their urging, Canada and Mexico have challenged COOL in the World Trade Organization (WTO), and the WTO has ruled that the U.S. requirements violate international trade laws.
However, even with this ruling, Congress does not need to repeal the U.S. labeling law.
The WTO still has to decide whether COOL has harmed meat imports. There is good evidence that it did not. COOL went into effect at the same time as the economic recession hit, which affected sales of beef and pork.
Today, even with COOL in place, livestock imports from Canada and Mexico are rising and are at the same levels or higher than before COOL went into effect.
In short, U.S., Canadian and Mexican negotiators could still find a solution that protects COOL.
Unfortunately, opponents of labeling are taking advantage of this decision to push legislation to repeal this popular law — before the WTO's process runs its course, which could take six months.
The House Agriculture Committee voted yesterday morning 38-6 to repeal COOL for beef, pork and chicken. Next, the full House of Representatives will vote on the repeal bill, H.R. 2393.
Will you join me today and urge our Representatives not rush to judgment by repealing COOL?
The U.S. has never conceded a trade dispute before a final WTO ruling, and should not do so now.
The WTO will determine what tariffs Canada and Mexico can impose, if any. Until then, Congress should sit tight and support the right of American producers and consumers to this information.
You can contact your Representative here.
Best wishes,

Keep up with WORC on Facebook.
Subscribe to WORC Action Alerts & News Updates.